Somelines about me !!!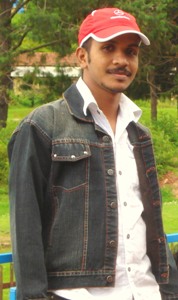 Hi this is Rajesh from kattumannarkoil.
I have designed this Website. Right now working as a Senior software Engineer in Chennai.As a Software developer, I had a thought to do something useful to our town that should be in technically and also that should be use to our guys, who all are in the way to success. Then I got a idea that why don't I develop the website for our town. That motivation brings me here.
I am very interested to do this site to share everything to all, about the town updates and also in knowledge wise. That should definatly help for our students. I have planned to implement all the interesting feature here including tutorial about some technology wise, So that should be gainful for features.
I guess most of them knew me. I have started my schooling in Arul matric and then continued in PRG Hr sec school, kattumannarkoil. Then had a good time in my college life at Rajalakshmi Engg. College, chennai and rgt now working in a software industry at Chennai

If you need to discuss regarding this Website and for feedback, reach me at rajeshrec276@gmail.com (or) 9094009456
My Google+ Profile
My sweetest family
My Dad and my Mum forever loving in my life.God gave a me such a wonderful Parents .
Offers