VADALUR VALLALAAR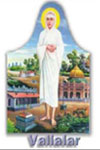 Ramalinga Swamigal, popularly known as Vallalar, was one of the most notable saints on the Indian sub-continent during the 19th century. He was born on October 5, 1823, in Marudur near Chidambaram into a Hindu Saivite family, the fifth child and last son of his father Ramayya Pillai and mother Chinnammayyar. It is said she had borne him in her womb after she received Vibhuthi, the sacred ash of blessings from an unknown guest of honor, a Siva Yogi who blessed her with a son like himself. Vallalar left the world on January 30, 1874 at age 51.
When he was only six months old his father died and Ramalinga was brought up under the auspices and tutelage of his elder brother, who, it has been said, had a good working knowledge ot things religious
From very early in his childhood Swamigal was attracted toward Shiva Bhakti, arriving at his more mature religious decisions without formal education, indoctrination, or guru. He was somehow aware of the numerous scriptures and literature, exhibiting a full understanding of their context and philosophy.
Followers say his knowledge was through divine grace, staying all alone in a room provided with only a lamp and mirror for days on end. At the age of 27, he was married to one Danammal. Marital life did not distract him from his religious duty, moving to Vadalur, where he set Gnana Sabia and Dharma Salai.
Ramalinga Swamigal Vadalur
As an ardent sycophant of bhakti he was a relentless critic of practice based on birth, class, status or privilege. He had no regard for the Puranas, Vadas, and the Agamas. He worshiped god as light (jyothi) and was a man of utmost love and compassion for all the living creatures. It is said that he would weep at the sight of even a withering crop. He firmly believed in anna dana or free offering of food to the needy.
On the Giri Valam path around the holy mountain Arunachala --- the home of the Ramana Ashram and abode of the famous Indian saint the Bhagavan Sri Ramana Maharshi --- it is possible for devotees to see the peak of Arunachala from all Eight Cardinal Point Lingams around the path.
However, at the fourth of the cardinal point lingams, Nirutthi Lingam, the view is MOST important because it shows two parts of the mountain, Shiva and Sakthi, aligned perfectly together. Because of that alignment the temple and dharmasala of Vallalar is on the right of the road after Nirutthi Lingam allowing for the most sacred of views.
People of all castes gathered around him in large numbers. However, not all who gathered came merely for his teachings as much as in the hope of witnessing miracles or Siddhis, of which the power of producing he was generally credited; though he himself discredited the idea of anything supernatural, asserting constantly that his was a religion based on pure science.
Offers